Youth Mission 2013: Van Buren Service Project (VBSP)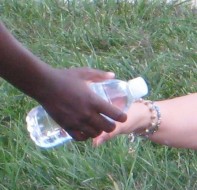 Once again Friendship Youth and Leaders will travel to Van Buren County to 'lend a hand' in service to those who could definitely use a little help.
We will leave June 16th following a commissioning serve and will return on June 21st , 2013. Tired, but truly filled with wonderful experiences, fond memories and new friendships!
In June of 2012, 36  Friendship Youth and Leaders  served by assisting  others with a helping hand to clean, cut grass, cut weeds, clear weeds and brush, install ceiling fans, paint, pull weeds, move rocks and gravel, fill holes and build 2 wheel chair ramps.
By serving others, we are lives changed, for we learned that by far the best service is through communication, fellowship and developing personal relationships.