The Bible and Money: What the Bible Says About Money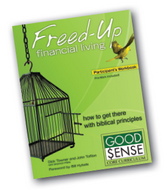 Freed-Up Financial Living Course is an outstanding tool designed to help people at any stage of their lives in order to effectively deal with the day to day issues related to finances. Whether you are experiencing financial challenges or feeling financially secure, this course will build a foundation and strength your financial knowledge to be able to:
1. Prioritize your financial goals
2. Develop a personalized a spending plan
3. Identify action steps to reduce your expenses
4. Pay down your debt and much more!
Through Biblical principles you will be given effective tools and skills to help you control your finances so they won't control you!
The course will be offered on three Saturday sessions: March 24, April 7 and April 21 from 9:00 to 11:30 a.m. at Friendship Church. It will be facilitated by FUMC's Gene Paquette, a chartered financial consultant whose has 27 years experience in investment and financial planning.
Participants will need to buy the course workbook for $20.00. You may register for the class through the bulletin insert at the Church Sunday Service or you may download the registration form. Completed registration forms may be dropped off at the church office.
The course is open to all church members, family, friends and neighbors.
Download the registration form, click here.
Adobe PDF Reader is required to open and read The Freed-Up Financial Living Course brochure.