Reflections from Pastor Anna: October 2013
Read entire October 2013 newsletter, click here to download.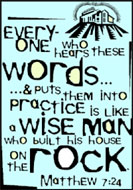 "You are like a smart carpenter who built his house on solid rock. Rain poured down, the river flooded, a tornado hit—but nothing moved the house. It was fixed to the rock. But if you just use my words in Bible studies and don't work them into your life, you are like a stupid carpenter who built his house on the sandy beach.
When a storm rolled in and the waves came up, it collapsed like a house of cards. This book is about how to rebuild the house on the rock and escape the sinking sand." Matthew 7:24-27
As we kicked off our new season with the church picnic, participated in the parade passing out water bottles to people in town, cleaned the Sunday School closet, ordered the curriculum for children and youth, dusted off every corner of our building and even painted our tower, the landmark(?) of our town, and trimmed the rose bushes, I have ascertained that we have been sending out the clear message to people around us and beyond our walls: We are preparing a space for you. Come and join us as we grow in love of God and our neighbors. We seek to be a blessed community and a blessing to all people.
Wait! Perhaps that is not the message that you exactly have in your heart. So I wonder what images or words are in your heart as you prepare yourself for coming to Friendship Church. Or what message you would like to send out?
People who have paid attention to church leadership agree that for better than fifty years the mainline church said to people: "Come a little bit, do a little bit, give a little bit, and say a whole lot." I am afraid that has been my message or ministry here at Friendship.
In the most recent United Methodist Reporter, Bishop Sally Dick reminds us that vitality isn't determined by size but the spirit of the congregation and its mission. She challenges small size congregation to think about 'what makes a vital small congregation? She articulates five points to consider when we measure our sense of being church.
Do we have a sense of direction that keeps us on task in terms of being church?
Are we known for quality care not only for our members but for the community?
Lack of existence of disruptive conflict: the most vitality-resistant factor is that in a small church there is a reluctance to talk about what is going on with the right people in the right place at the right time in the right way in order to resolve the disagreement. Instead it festers and becomes personalized toward the pastor or other laity.
Joy factor
At least one ministry with the poor.
I do not know why we (you and I) are chosen to be ministers of God's mission in this time. But the fact is we are. It is mystery. But I trust that these are the best of times to be the church. And these are the worst of times to be a church.
Welcome on board!
In joy of serving God and God's people,
Pastor Anna