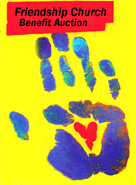 The Friendship Church Annual Benefit Auction will be held on November 12, 2011 starting at 7:00 pm.
Please start thinking of what you can donate to make this fund raising event a great success. Either donate a new item or a themed basket for the silent auction or think of a service you can provide, like making a meal or baking a pie a month!
Another way to donate is to ask the businesses you support to give a donation. If you have your oil changed at a Bolingbrook shop, ask if they would donate three oil changes. Businesses are always glad to get their name out in town. Take a donation letter with you.
Please hand in your donation form ASAP, even if your donation isn't finished so we can start cataloguing what we have! Just ask call the church office at 630.972.1011 if you have any questions.
Benefit Auction donation forms are available to download, click here.