Giving Thanks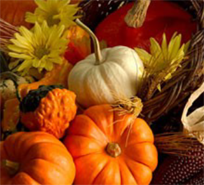 "God is able to provide you with every blessing in abundance, so that by always having enough of everything, you may share abundantly in every good work." 2 Corinthians 9:8
Even though the weather had been unexpectedly warm, the marks of autumn were very apparent on the tips of trees. it is very natural to me to be reminded of the song of Ecclesiastes: there is a time for certain things, time to plant and time to harvest.
Since I have passed a certain number of birthdays, autumn appears a little more special. We often find wisdom in nature that we normally miss in the breathless schedule of busy life.
My mother passed away two years ago in Korea. I missed her last years of her life since I have lived in the States for a while. Telephone is the only way that I could get comforted when I missed her presence. During the conversation of those years she said again and again that how grateful she had been and wanted me to understand how blessed I have been. Then she always concluded our conversation with her theology: It is only when we reach the far shores of major challenge (crisis) that we can look back and see some of the distance we have traveled, and become aware of why the particular part of our journey was necessary: the people that we encountered, the places that we have been.
I have convinced that this is knowledge, which is impossible to have in advance. Only when we open our hearts and trust God and move forward one step at a time, then later, only later we take the joy of new discovery and encounters with angels around us in gratitude. "That is the grace of God," she says and adds "count your blessings that you already have received and be thankful, instead of focusing on what you don"t have."
We hear the same word in Paul"s letter to the Corinthians. "My grace is sufficient for you, for power is made perfect in weakness."
I often feel that if I have just a little more quiet space, or a little more skill in communication, or a little more support, I would be able to do what I need to do for "every good work." However, God actually has given me all that I need to do the work God has given me to do, even if it is not all that I want. I count my blessings that I have now instead of thinking about how much more I need. If I do that, I will be much more in tune with God and become more free.
Perhaps many of us feel as if we never have enough blessings to be grateful. Yet God is generous, compassionate, and steadfast in love. Perhaps it is time to accept the gifts and give thanks for what we have instead of focusing on the not enough pieces of our lives. God"s gift is abundant in us and around us.
Are we ready to receive it?
This season of thanksgiving, I pray that you may know the abundant grace of God in you and those around you, and savor those moments that you have now and treasure it.
In gratitude of living God,
Pastor Anna
Read entire newsletter, click here to download.