Vacation Bible School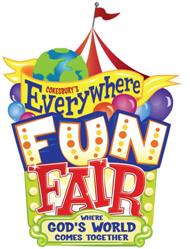 We're bringing a World's Fair flair to the kids at our Vacation Bible School, EVERYWHERE FUN FAIR: WHERE GOD'S WORLD COMES TOGETHER! Your children will become neighbors at Everywhere Fun Fair as we explore God's welcoming love and discover how Jesus teaches us to be great neighbors. We will start with a high-energy opening at Friendship Central where we meet our neighbors and learn new songs. Children will learn Friendship Phrases for living as the kind of neighbor Jesus teaches us to be and discover Scripture Souvenirs, Bible memory verses that will boost their faith long after VBS.
The children will expand on what they've learned by participating in a variety of activities: engaging Interactive Bible lessons at the Bible Bazaar, making their own art projects at the Creation Zone, exploring science activities at Innovation Station, participating in recreational activities at Global Games, and enjoying tasty snacks at the Eatery Expo.
Step right up!
Children ages 3 years old through entering fifth grade are invited to join us at
Friendship United Methodist Church
305 E. Boughton Rd., Bolingbrook, IL 60440
Monday July 22nd through Friday July 26th
from 9:00am to 11:30am.
The cost is $10 per child with a maximum of $20 per family.
For more information about EVERYWHERE FUN FAIR, call the church office 630-972-1011.
Click here to download the EVERYWHERE FUN FAIR registration form.