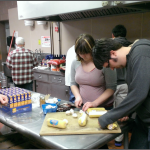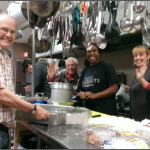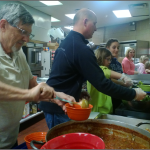 Operated by Catholic Charities the Daybreak Shelter in Joliet, IL, provides food, shelter and counseling to the homeless and those in need.  For more information, contact Catholic Charities at  815.774.4663.
Members of the congregation donate the food required for the meals based on a menu provided by the Daybreak Coordinator. Volunteers prepare and serve the food and insure all the food required has been provided. Church members and volunteers are scheduled to serve two meals on the third Friday evening and Saturday morning of each month serving at each meal an average of 50-60 people.
The schedule for serving as a Daybreak Volunteer is every 3rd Friday of the month at 5:45 pm and Saturday (next day) at 4:45 am. Watch for the Daybreak notice each month in the Church bulletin.
Richard Guzman is the Daybreak Coordinator, writes these words:
In the richest country on earth, homelessness grows.  Over 1.5 million of those are children, which drives theaverage age of a homeless person in the U.S. down to 9 years old.  That's one reason the work Friendship Church does at the Daybreak Shelter in Joliet is so important: more people than ever need our help.  It also helps us fulfill one of the Bible's most persistent calls: to serve the poor in Jesus' name.
Despite the unfortunate circumstances of the shelter's clients, it's fun to get to know them and toexperience their thankfulness.  As volunteers, we get to know each other better, too, as we cook and serve         together.  And bringing the whole family is one of the best ways to help ingrain a spirit of service into children–a spirit that can bring joy, purpose, and a passion for helping others into their futures.  It's one of the greatest things a parent can give their kids.
I've done a small Daybreak video.  See it at: http://richardrguzman.com/daybreak-video/.  The post accompanying it contains many links where you can learn more about homelessness and how to help end it.