Senior Luncheon
Every 3rd Thursday of month, 11:15 a.m. to 1:00 p.m.
All seniors welcome, No Senior Discount needed! Discuss Scripture and influence the following week's sermon in the Bible Study facilitated by the Pastor. Then enjoy a home-cooked, seasonally inspired meal prepared especially for you and some friends. There's always good company and a killer desert!
Contact Kim Bailey through the church office at 630-972-1011 for further information or to pre-arrange transportation.


Women's Bible Study
Wednesdays at 10:45 a.m. – an informal, casual discussion of Christian literature, the Bible or topics of general interest. Women's Bible Study requires little preparation but much discussion, sharing, fun and food. If interested, please sign up at the Information Station. For more information, call Sharon at 630.378.4697.
All women are welcome to attend.
For more information contact Sharon Hall through the church office.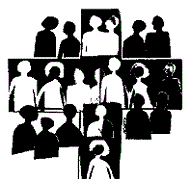 Core Groups
Just as the first followers of Jesus met in small groups in their homes to devote themselves to learning and growing, loving and serving, Friendship Church gathers in small groups modeled after these first communities of believers. We are learning how to live together as the Body of Christ in the 21st century.
This ministry is called Core Group Ministry. Core groups are the base community to which all friends and members of Friendship are encouraged to belong. By joining a Core Group, people come to know and love one another as they share their stories of life and faith, study the Word, and engage in fellowship.
As we gather over a meal or dessert, we share the stories of our lives and faith, our joys and concerns through discussion, prayer and activities guided by facilitators. Core group members support, encourage and pray for one another—as the group matures, so does the level of trust, through sharing and holding one another accountable for their daily walk with God.
Each group chooses an area of missions or outreach in which to become involved. We believe the journey inward must lead to the journey outward.
For convenience, the groups are structured according to where you live. Each group will meet monthly in members' homes, allowing us more opportunity to get to know each other- more than is possible only on Sunday mornings.
Core Group leaders continue training with Pastor Anna Shin and meet on a quarterly basis for feedback and to share ways of enhancing the small group ministry.
Core Group ministry is entering its second year of fellowship and fun together. Those involved say it is a wonderful experience and allows everyone in our congregation an opportunity to get to know one another on a deeper personal level.